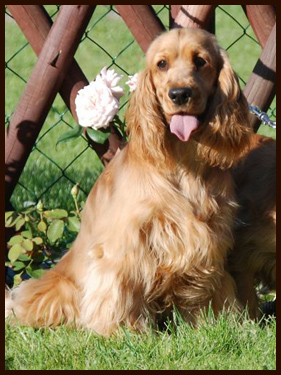 d.o.b. 18.12.2010
Coowner with Quattropedes kennel.
Romanian Champion
3th in Yearling Class - Championship Show Malvern `2012
Best Junior in Breed
Junior Winner
CACIB x 2
CAC x 1 (Poland), CAC x 2 (Ukraine)
PRA - clear
FN - carrier
AON - carrier
HD A - dysplasia free
0/0 - patellas free
PRA, RD, Cataracta, Glaucoma - clear (certificate ECVO 28.03.2017)
Amusing and fun. Very positive - minded to the whole world, no matter the circumstances,
she keeps calm and serenity. When the rest of the pack is nervously running and barking,
Florka plays with her toy or chews on her bone. She never gets bored and can keep herself occupied.
Cheerful and happy just like her sister Duschka but also a individualist.
Her attitude towards other dogs in conciliatory, but she won't let others to boss her around.
Then she becomes brave and sometimes even feisty.
She was born in a long expected litter, after ten years break in my breeding,
on a snowy December night 2010. It was a mating of my dreams:
my golden Int.Ch. Multi Ch. BOB IVETTE Quattropedes with a dog of an exceptional beauty,
comming from one of the best breedings in the world - Int.Ch. Multi Ch. BIS Charbonnel DESERT GOLD.
Thanks to this match Florka is inbreeding for one of the most titled dogs in England's history-
- Sh.Ch.GB Top Cocker of England 2000&2001 Charbonel WARLORD.
My first thought after she her birth was: that's THE ONE bitch that I'm going to keep in my kennel.
Later on I changed my mind many times and couldn't decide which girl I should keep.
Luckily the Providence took care of me and thanks to many coincidences
Florka stayed in my kennel. That was the best choice.
My "the beloved little Flower".