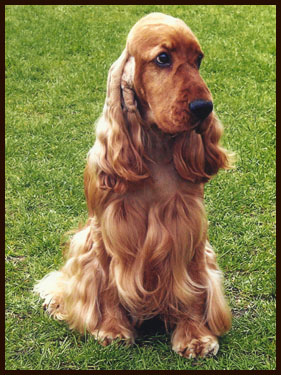 12.11.2003r. - 11.04.2013r.
Interchampion (C.I.B. & C.I.E.)
Multichampion
Zwycięzca Polski Młodzieży '2004
Młodzieżowy Champion Polski
Champion Polski
Champion Rosji
Champion Łotwy
Champion Rumunii
Champion Mołdawii
Champion Czech
Champion Białorusi
Champion Litwy
Champion Niemiec
Champion Ukrainy
Grand Champion Ukrainy
Champion Austrii
Champion Luxemburga
Champion Słowacji
Najlepszy Reproduktor Klubu `2012
3 x II BIS Psów Myśliwskich
BIS Weteranów, II BIS Weteranów
BOG x 2, BOG II x 4, BOG III x 4
Multi CACIB & Res.CACIB
Multi BOB & BOS
Dyplom Io z Konkursu Tropowców (100 pkt/100pkt)
Dyplom IIo z Konkursu Tropowców
Dyplom IIIo z Konkursu Tropowców
PRA - carrier
FN - clear
HD A - wolny od dysplazji stawów biodrowych
PRA, RD, CAT. - wolny (kliniczne badanie oczu 2011r.)
Dog of one man or even... woman.
   Loving exquisitely - with all his heart and soul, with unconditional and boundless love. 
In this... he was just unique.
   Very brave and intelligent, also blessed with just incredible hunting passion.
   Distrustful at first - placed his trust only after he got to know the person better. 
But if he trusted, it was forever.
   Proud and the most huffish from all of my dogs. But he never took offence on me, but on other householders.
I as his "owner" could do anything. 
  But if I offended him, he would just glance at me with reproach and regret... How could You? But he went on loving...
    He definitely ruled the doggie family, but in smart and well-balanced way.
   Figaro was born in Serbia, in the superb kennel Doubtless, from which the World Winner '2006 comes from
.        He got excellent, elite ancestry. 
        He was the son of Int. Ch. Multi. Ch. Vice World Winner '1996 Chataway FOX MULDER, grandson of brilliant dog,
England's TOP COCKER '2000 and '2001 Sh. Ch. GB Charbonnel WARLORD, and great-grandson of an outstanding stud dog
Sh. Ch. BF Asquennaes GONZALES, who left behind 11 English Champions. Precisely this unique and 100% English pedigree
of his caused that, even though in 2004 I did not yet planned a new dog, I could not resist and went 1500 km to
remote Serbia and did everything to get Him.
  Now I know, it was the best decision in my life! 
  As it turned out Figaro was not only a great show dog , winning a lot of dog shows, becoming the most titled dog in
the history of the breed in Poland, as well as one of the most titled dogs in Europe - double Interchampion and
the Champion of 13 European countries!!! 
  He turned out to be - what is the most important - a grand stud dog, giving the top-dog offspring's.
   He left behind a lot of beautiful dogs, among others three Interchampions and Multi Champions and also the
first European Junior Winner '2012 in the history of the breed in Poland, my big pride DOUBTLESS ONLY ONE Xilander - SURI. 
  In 2012, on his last dog show ever - Spaniel Club Show  he gained The Best Stud Dog title. 
He was unique in every way. Marvelous, precious... Dreams and expectations coming true.
   My big love - The dog of my life.
   Unfortunately, we did  not get enough time together.. but I am thankful for every day that I could spend with him.