Great Figaro's success !!!!

11th of August - International Dog Show in Lwow (Ukraine). Figaro was showed in champion class, get next
CAC for Ukrainian Champion and in comparison get next and the most important CACIB in his carrier.

Thanks to it Figaro comply conditions to get the most important title - International Beauty Champion!!!!!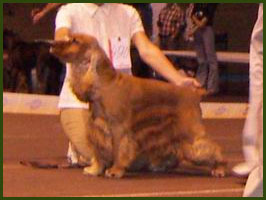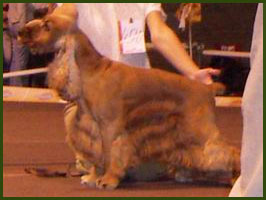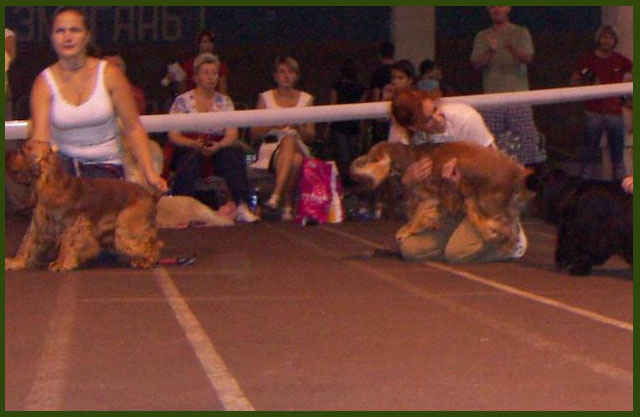 Lwow is really beautiful located and amazig in every regards. Situaited just like Rome on seven hills. Lwow for
hundred years was polish city... Sightseeing in Lwow on every step we can see traces polish nationality, which touch and
forced to toughtfulness about history and the past. Lwow is full of beautiful historic buildings - cathedrals, churches
and orthodox churches - almost every religions. On me the biggest and unforgettable impression did th Ormian Cathedral,
build in XIV century, modern on appearance... mysteriuos- but however big and full of religion speech...
Square - there are the architectural pearls - gorgeous. Beautiful, monumental Central Station - build in 1903 and it
looks like in Vienna. And finally the Lyczkowski cemetery. It's one of the biggest cemetery in Europe, a lot of polish
eminence was burried there among others Maria Konopnicka, prominent matematician S.Banach and a lot of polish soldiers
whom was taking part in "Powstanie Listopadowe" (1830- 1831) and in "Powstanie Styczniowe" (1863- 1864). There is also
the most important place for Polish people - Cementery of "Orl±t Lwowskich". It was really unforgettable trip... not only
because of accomplished dream- conquest the most important title- International Beauty Champion but also in case of
emotion trip in to the past... and inside our souls....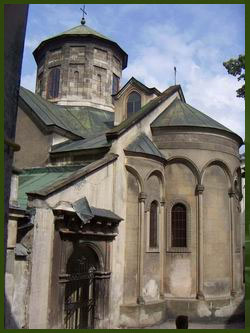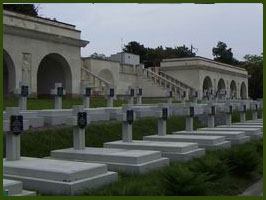 _______________________________________________________________________

15th of July - National Dog Show in Gdynia (Poland). Next of Figaro's daughters - gold SARA Działdowski Czasrt
(mother: Ch.Pl. GABI Nerwus) has made one's debut. Showed in yought class, judged by Zygmunt Jakubowski she got excellent
rate, first place, J.CAC and Best Junior in Breed.

Iwonko- congratulacions and wish you more success like that in the future !!!!





_______________________________________________________________________

14th and 15th of July - 2x CACIB International Dog Show in Minsk (Belorus). In both days Figaro was showed in
working class - as well from portuguese judge Salvador Janejro as from belorussian judge Eleny Lewickiej he get
excellent rate and CAC.
This way Figaro became a champion of seventh country - Belorussian Champion.










We spend in Belorus wonderful weekend !!!!

It turns out that Belorus suprised us positively. Villages and towns characterise good condition of roads,
tidines and cleanliness.

Belorus capital - Minsk is really charming!!! Monumental buildings, wide streets and beautiful greenery - trees,
flower - beds, full of colours and beautiful flowers. Clean and tidy streets, renovited buildings and also amazing
modern objects - like for example underground shopping centre.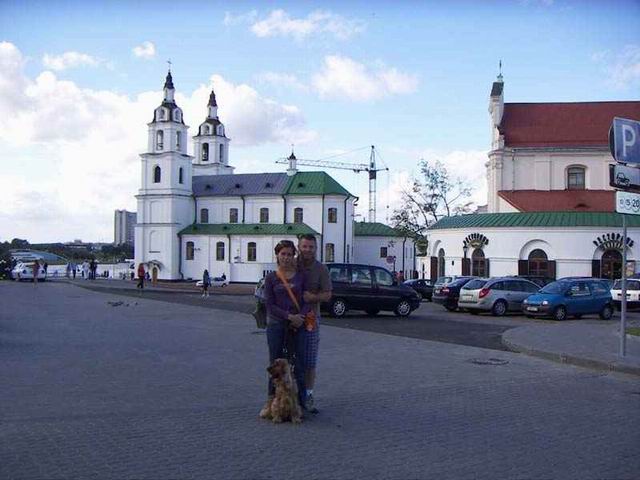 _______________________________________________________________________

On 6th of May Figaro reenacted his previous success. Under Ukrainian woman judge Tatiana Szijan he gained
CAC, CACIB and Best of Race. What is more – during choosing Best Dog Of VII FCI group he won and gained a title of the
Winner of group VIII!!! Elizabeth Chwalibog elected him.
At that time our dog fulfilled conditions to gain the 5th title of champion, the Champion of Moldavia!!!!
It was a wonderful Dog Show really!!!
It took place in beautiful woodland. The weather was also good, despite of drizzle. Organization of this Dog Show was
wonderful and judging was hold quickly.
By dint of gaining CAC, CACIB and Best of Race we received original clay medal. Because of obtaining 1st and 2nd place in
Best of VIII FCI group we won uncommon huge cups!!!


uncommon huge cups!!!



Local colour was fantastic!!! I was pleased to meet a wonderful Ukrainian woman breeder – Maria Gvozdeva (Style of Mary).
This woman to whom I meet I render great thanks for amiable reception and invitation to Dog Show in Odessa. We admitted
your encouragement during choosing Best of VIII FCI group! Thanks from us (me and Figaro)

I had dreamed of trip to Moldavia so I was so happy that I could realize this intention. Making journey was not easy
because of wretched roads and distance. Moreover we got stuck in the traffic jam while crossing Ukrainian border.
Moldavia is a charming and unusual place. You won`t believe what a picturesque place this is – wide fields, green meadows,
little villages with fairy like cottages… The capitol – Kiszyniow – is so different… it is city in rush, full of people,
cars and …crazy road hogs. Unfortunately driving culture leaves much to be desired.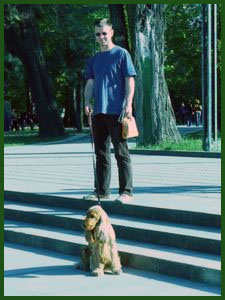 _______________________________________________________________________

Visiting Austria and sightseeing in Salzburg- familial city to Wolfgang Ammadeus Mozart author of
"The Marriage of Figaro"- made an impression on us. Austria is a beautiful country, Slazburg lovely with unique charm.
And Alps... well... "there you can breath"... and I... just love it !!!!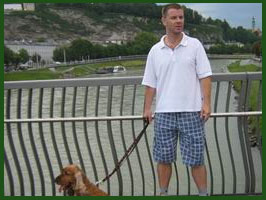 _______________________________________________________________________

30th of June - International Dog Show in Uzhgorod (Ukraine) Figaro was showed in champion class and get an excellent
rate, first place, CAC and res.CACIB. He started an eleven champion - Ukrainian !!!!

Judged by Dusan Paunovic from Serbia.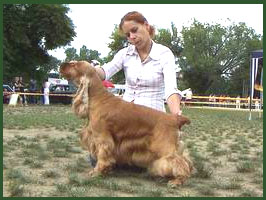 _______________________________________________________________________

We spent 21th and 22th of April on Dog Shows in remote Romania.

21th of April Figaro was exhibited at National Dog Show in Satu Mare. He gained the title of Winner of the Race!
It was his 10th victory of the Race in his career and 1st gained in the foreign country. Istvan Antal from
Romania was the judge who assessed him.


22th of April 2007 Figaro was shown at the International Dog Show in Baia Mare as a dog from champion class.
He gained a title of "Winner of Baia Mare" and CACIB!!! The dog was judged by Romanian woman judge Anca Giura.
By dint of this he has became a champion of Romania!
I am so proud and happy as a sand-boy!

We came back with positive impression excepting happiness. The weather there was sunny but it was not sweltering.
It was like springtime. All the judges were amiable, well-mannered and the other raisers were friendly and obliging.
I dedicate special thanks to Lucian Pipas (Asklepylos)

It was a wonderful weekend!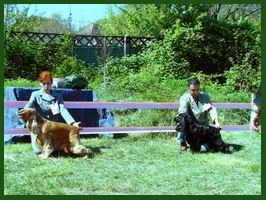 _______________________________________________________________________
Figaro was showed 14th of March 2007 at the International Dog Show of Erfurt (Germany) in the working class.
He was assessed by Hungarian judge Andraso Korsaza. – Consecutive motion - Anw. Dt. Ch. VDH was proposed to Figaro.

General Rules does not sound like a cinch in Germany. It is hard to get this honourable title because a dog have to gain
five these consecutives during one year. Figaro gained the third one in Erfurt, there are another two to get.
I hope this plan will be realised in this year!


_______________________________________________________________________
The International Dog Show – 17th and 18th of march 2007
The very first time I have not been keen on going to a dog show. If my husband had not conviced me, we would not set
off far away – to Ryga. When we were driving the rain was raining all the time. However it was worth driving!
Cocker spaniels were judged by Damir Skok from Croakia.
Figaro was exhibited in the working class.
He was appreciated, he gained a very good rate, I-st position and CQ
(Certificate of Quality).
It is a certificate, which allow to take part in a selection. In the selection judges
have to choice The Best Dog In A Race, CACIB and CAC.
We didn`t managed to get the most honourable rates. These ones were given o two titulaire, colorful dogs – champions
of many countries. However Figo gained victorya and were given CAC and owing to this he gained a title of
championship of Latvia.
It is a reason, which made me happy because in Latvia is hard to get CAC. It is given to one female and
male dog in race. Following the rules champions of Latvia the dogs which have already been given to CAC… so CAC was
dedicated to Figo, which made him
the champion of Latvia!
The journey to the capital of Latvia (Ryga) was not confined to a dog show. We started sightseeing and begun to perambulate
this severe and proud city. In spite of cold, Scandinavian climate we were decided to continue our trip; we were loosing
steady ours way in The Old Town. We admired secessionist architecture of the town. We saw old churches, granaries and
squares we were impressed by panorama of the city, which was situated by the Dzwina River. All of this; the island,
bridges and wonderful architecture, it cast a spell over us.
Before we got home, long hours had passed (unfortunately, it was raining all that time again). We came back at night
lately, we were exhausted but this trip was worth organizing!!! We were glad very much!
We are thinking already of a next trip. Where could we go again? Where we have not been in yet?
_______________________________________________________________________
Successful beginning of the 2007 dog show season !!!

On the International Dog Show which taken place in Trencin (Slovakia) in 27-28-th January 2007 Figaro showed
in the working class obtained the I-st position and CAC from the Polish judge Stanisław Firlik.
Thereby he completed the Championship of Slovakia!!!

Way to this success was difficult because of snowy weather in Slovakia mountain and difficult
road conditions- especially on the curved mountain serpentines. Luckily we finally succeed because Figaro obtained
championship of the third european country!!!

I hope that it is good prediction and the announcement of successes in the 2007 show season!


_______________________________________________________________________
19-th January 2007
I have received the photo made in the autumn during Figaros visit at his sone who lives in Netherlands.
His family name is Figaro-in daddy's honour and his pedigree name is
SHOGUN Działdowski Czart (mother Ch. Pl GABI Nerwus).

Figaro-Junior is very similar to Figaro-Senior, both from beauty, and from character.
They had a great fun playing together-it can be seen on his amused muzzles
_______________________________________________________________________
13-th January 2007 in the kennel with 30 years experience "Szczę¶liwa Trzynastka" were borned another Figo's
children. Black&tan bitch SCARLETT Renmil ( championship of Poland in process) gave birth to 8 strong
and equal puppies - 3 gold bitches, 3 gold boys and 2 black boys. This is already checked, very good combination -
first children of this pair will make debut on shows in this year. I am keeping my fingers crossed!!!